Travel Information
Klagenfurt University is located only about 1.5 kilometers east of Lake Wörthersee and about 3 kilometers west of the city center. Klagenfurt is the capital of Carinthia, the southernmost federal state of Austria, in Central Europe. Klagenfurt is situated at the beautiful Lake Wörthersee and has approx. 90.000 inhabitants.
Being a small city, with a Renaissance-style city center reflecting 800 years of history and with Italian influence, Klagenfurt is a pleasant place to live and work.
To obtain a general idea about the location of Klagenfurt click on the map below!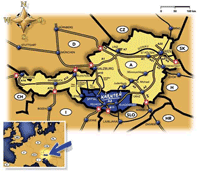 Travel by car
There are two main motorways in Austria leading to Klagenfurt, namely the A2 (Südautobahn) and the A10 (Tauernautobahn).
From the east/Vienna: A2 motorway towards Graz and Klagenfurt (Graz - Klagenfurt approx. 130 km)
From the north/Salzburg: A10 motorway to Klagenfurt (Salzburg - Klagenfurt approx. 240 km); extra toll between the "Tauerntunnel" and "Katschbergtunnel" (€ 9.50)
From the north/Linz: A9 motorway towards Graz then A2; or A10 motorway towards Salzburg and then A10 to Klagenfurt
From the north/Germany/Tyrol: via Kufstein - Mittersill - Felbertauerntunnel (toll) - Lienz -Villach – Klagenfurt (no motorway but scenic drive)
From the south: A2 motorway (A23 in Italy) via Udine - Tarvisio or A11 motorway from Slovenia, toward Villach and Klagenfurt
For the Klagenfurt University leave the A2 motorway at "Klagenfurt West" exit "Minimundus/Klagenfurt Wörthersee", straight ahead to the "Wörthersee Süduferstraße", and after approximately 200 meters turn left to the university. There are a sufficient number of parking lots around the university area (free of charge).
During summer vacation time an increased volume of traffic is to be expected, resulting in traffic jams with possible delays up to several hours, especially on weekends between Salzburg and Villach on the A10!
Plan your individual route using map24.com.
Note: Motorways are toll roads and vehicles require a so-called "Vignette" which is available at motoring organizations like ÖAMTC, ARBÖ, gas stations (AE)(also at the border in neighboring countries), etc.
Travel by train
Arrival at train station "Hauptbahnhof Klagenfurt". Further details can be found at "ÖBB – Österreichische Bundesbahn" and connection queries at http://fahrplan.oebb.at. Alternatively you may contact "DB – Deutsche Bahn" with connection queries at http://reiseauskunft.bahn.de
To get to the university from the train station refer to public transport in Klagenfurt or take a taxi.
Travel by airplane
The most convenient way to get to Klagenfurt is by airplane. Regular flights between Vienna and Klagenfurt are offered 2 - 3 times a day by Austrian Airlines (AUA), a star alliance partner. In addition low cost flights are provided by HLX from Berlin, Hamburg, Hanover, and Köln/Bonn.
Please visit http://www.klagenfurt-airport.com/ for further details.
Getting from/to the airport/train station by taxi:
Taxi stands are located in front of the arrival/departure halls of the airport as well as next to the train station. Taxis may also be ordered and pre-booked under the following telephone numbers:
The fare from the airport to the university is approximately € 15.00 and from the train station to the university is approximately € 11.00.